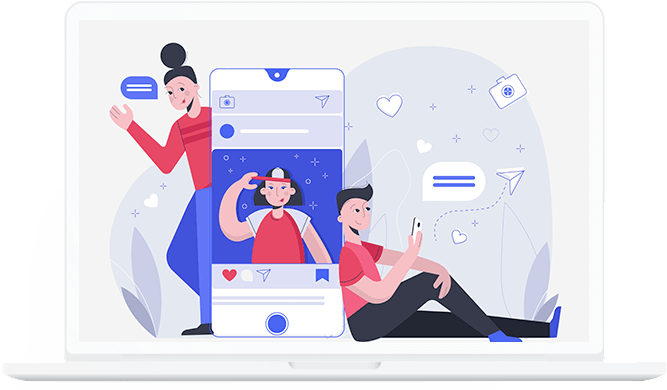 Social Media Advertising
Advertising on social media has become one of the main sources for small businesses to get in front of the right audience for an affordable price. Each social channel has a unique audience and effective ways to advertise. SMART Social Media Marketing helps you use the right channels and only spend what's necessary.
We Love Social Media. We Can Help You.
Stop procrastinating and posting mediocre updates. We can tell your story and reach your audience.
What is Social Media Advertising?
Once upon a time you could post on a social media platform and nearly everyone that followed you would see it. Advertising was used as a great way to reach a new audience.
Today, advertising still helps you reach a new audience – but you also need it to get to your audience. If you have a product, event, or a message, you can reach your specific customer audience with a highly targeted social media ad.
Social Media Advertising is when you create specific advertisements and pay to have them promoted on social platforms. Social Media Advertising can be as simple as promoting a single post to a wider audience or as complex as creating a campaign targeting specific demographics and locations.
Types of Social Media Advertising
Social Media Advertising takes many forms. Each platform has unique content structures. Most social media advertisements mirror organic posts on all platforms.
Most platforms have some variation of the following social media advertisements:
Display Advertising
Video Advertising
Mobile Advertising
Native Advertising
Each form of advertising helps you convey the message that will help engage your audience and promote your offering.
Setting SMART Social Media Goals and Strategies
Eliminate the stress and headaches that go along with posting social content for your business. Our team uncovers your voice, understands your goals, and provides engaging content that brings your audience to you.
The main reason small business owners and brands struggle with social media is that they treat it like their personal page.
Most people:

Post anything and everything that ever happens to them – hourly (oversharer)
Communicate only when absolutely necessary, posting life's milestones (hermit)
Post when something comes up – with no major thought or process (mostly everyone)
You probably don't want to be an annoying business, forgotten business, or inconsistent/uninteresting business.
Social Media Marketing is effective when you strategize, create a plan, and set SMART goals.
ur brand and your audience is important in creating an effective social media strategy. Your strategy will involve the platforms you want to use, content you plan to produce, and who you plan to reach. Your strategy shouldn't be - ``I will post when something comes up``.
How often do you plan to post? Are you creating a content calendar? How are you going to handle user comments? You need to have a plan in place and think out your scenarios. It's a lot easier to navigate the world of social media when you have a guide map.
Not every piece of content needs to reach thousands and solicit hundreds of ``likes``. When you create a new piece of content, know who you want to reach and the response you would like. Posting a MEME is certainly different than a Flash Sale - so expect different results.